ABOUT: Drum Machine Editions
Ongoing publishing project, 2018—present.
The "DME Television Spot" was produced for Small Press Fair Fort Lauderdale's live broadcast on 14 November 2020. Starring Camille Freychet. Filmed, directed, & edited by Nathan Hendrickson. Script & additional studio footage by Erik Pedersen. French with English subtitles.

Drum Machine Editions is an independent publisher & print shop in Asheville, NC, USA.


Since 2018, we've been releasing limited edition artists' books, prints, tapes, and objects. Publisher, Designer, & Master Printer Erik Pedersen takes a slow, project-based approach, working closely with each artist to translate their work to the printed page. To-date, DME has published a diverse range of projects spanning analog animation, experimental music, and ekphrastic poetry books.

In 2020-2021, Drum Machine Editions is tabling at a number of international art book fairs, including the Vancouver Art Book Fair, HYPERTEXT, Small Press Fair Fort Lauderdale, Bergen Art Book Fair, and Printed Matter Virtual Art Book Fair. As part of the programming for these completely-digital fairs, DME continues to champion the work of our artists by producing audio-visual companion pieces, including a short-form podcast, a video book launch and poetry reading, a live radio program, a short film, and an artist talk and Q&A session via Zoom.

We're working hard to establish an equitable and transparent publishing model that empowers artists to negotiate with us every step of the way. From material costs and division of labor (i.e. layout, book cover design, & binding) to artist copies, prices, rights, and percentage splits: art is labor and we want to talk about it. In early 2021, we will be releasing our open source, choose-your-own-adventure-style publishing contracts. They'll be free to use, distribute, discuss, and improve upon.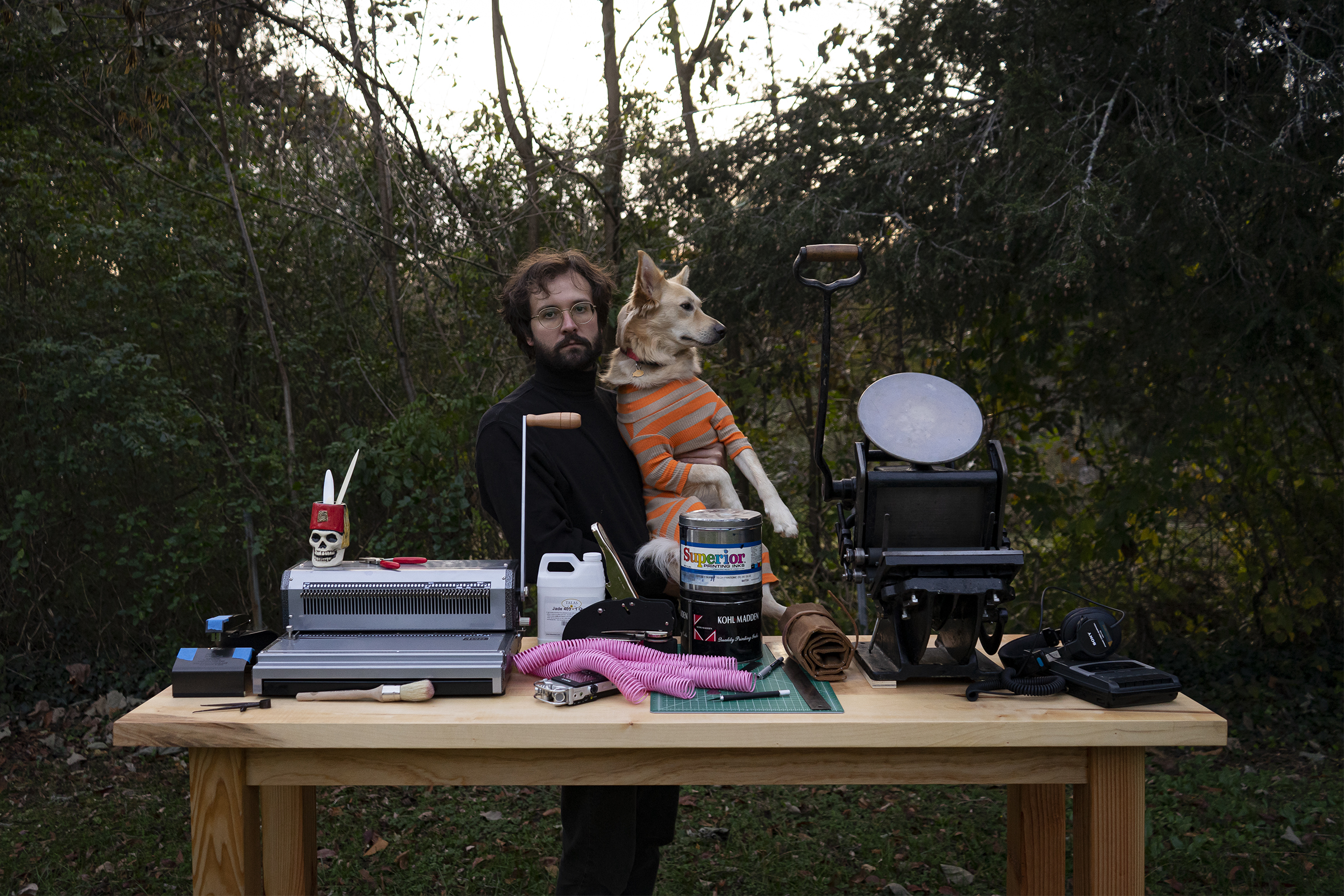 Erik Pedersen and Doug (the shop dog) in their back yard with selected accoutrements, Asheville, NC. Photo by Whitney Gilchrist.

---
Printing Justice League


Drum Machine Editions is a proud member of the World Print Coalition's Printing Justice League, a decentralized community of small presses and publishers offering free print and design services for organizers and activists in the Movement for Black Lives. We're committed to sharing our resources, equipment, knowledge, and labor to advance anti-racist actions and initiatives across the United States.

If you're in need of our services, please use

this intake form

to get started. All requests will be routed to your nearest printer.